On a hot summer day in June 2022, with a breeze bringing cool relief, a group of SSU Center for Environmental Inquiry (CEI) donors, volunteers, and employees gathered at SSU's Galbreath Wildlands Preserve to honor family and share plans for connecting students, researchers and community to the land.
The 3,670-acre Galbreath Preserve – with its a spectacular array of Oak Trees, Douglas Fir, grasslands, and vistas of wild, rolling hills – was donated to SSU in 2004, in fulfillment of the wishes of Fred and Jean Galbreath who first purchased the land in the 1940s.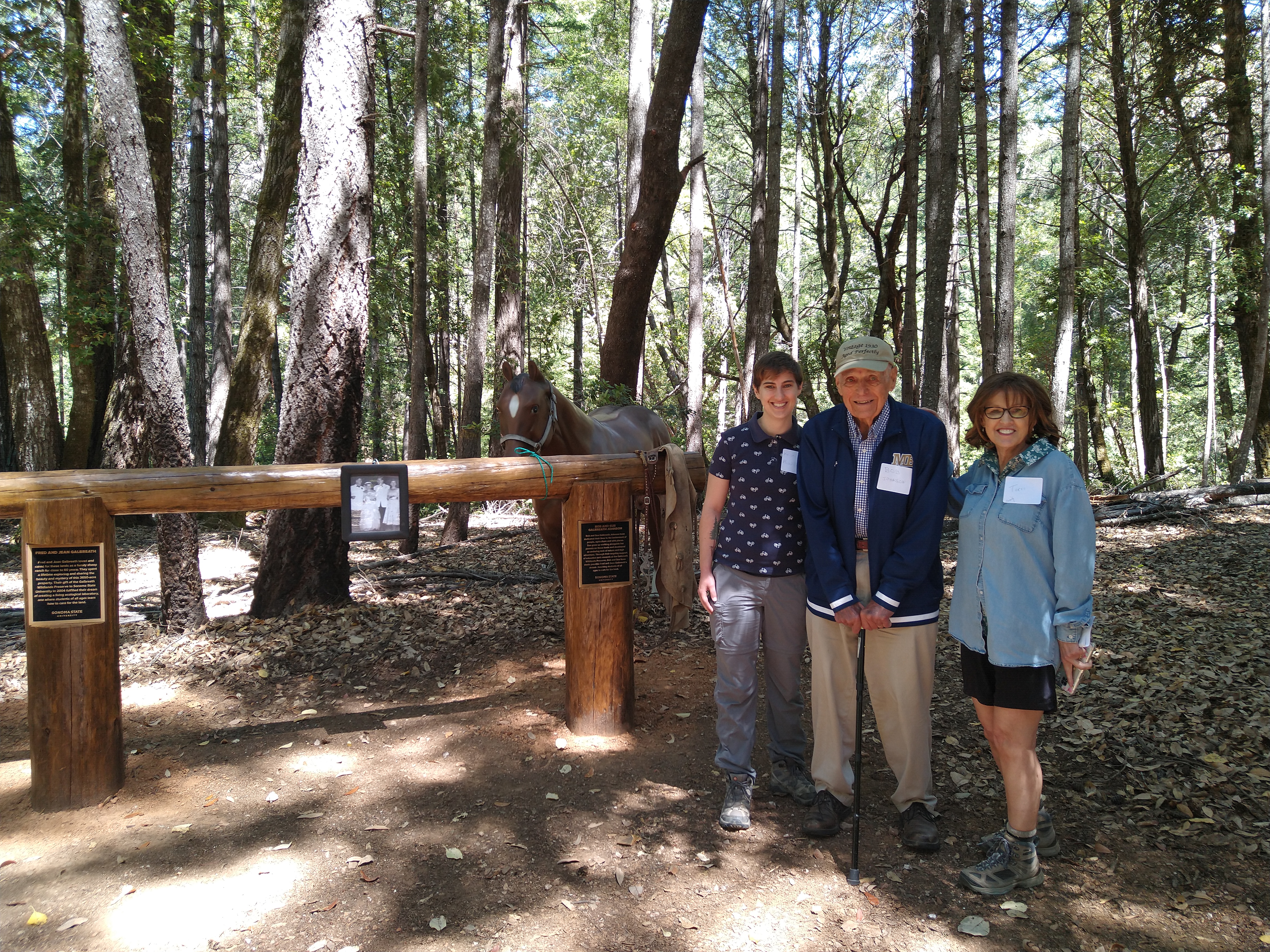 The gathering was to dedicate two plaques: one to honor the achievements of Fred and Jean Galbreath and the other in appreciation of the influential work of Bob and Sue Johnson – Fred's daughter and son-in-law – to make Fred and Jean's vision a reality. At the dedication, the name of the campground was changed from Madrone Camp to Bob & Sue's Camp.
"Fred was interested in preserving the land," said Bob Johnson in a 2011 interview. "He wanted it to be a living laboratory, to be studied, [for people] to learn better management of resources."
The gathering was presided over by Suzy Horse, the life-size fiberglass horse donated to the preserve by Bob Johnson and his late wife Sue. With Suzy Horse looking on, Bob Johnson, his daughter Terri, her husband David, and their daughter Kristi, joined CEI Director Claudia Luke, and volunteers and staff to dedicate the plaques.
Luke focused her comments on the legacy of the family and the future of the preserve, which is poised to become an important resource for faculty and students across all disciplines.
"In the last few years, we've been working on a vision at Sonoma State where every student – no matter their discipline – understands their connection with the planet and has the skills to work on solving the challenges we face," said Luke. "This is a critical time in the history of the Earth. SSU is poised to show how higher education can help bring about the transformational change we need for a livable future."
Luke said she has adopted Galbreath's vision in her stewardship of CEI and the SSU Preserves.
The Galbreaths' "passion came with these lands," said Luke. "They were so far ahead of their time in the way they cared for this property…. Fred had an ethic and belief that we are stewards of the land, which contrasted with the prevailing attitudes focused on 'what can we extract from this property?' Fred instilled that vision in so many people – friends and family."
Luke appreciates that Suzy Horse will now also live on the land. "She's our welcoming committee," said Luke. "She draws people to take a look at the plaques."
The dedication also provided an opportunity to showcase plans to build facilities on the preserve. The new facilities will ensure that all students at Sonoma State have an opportunity to deeply engage with the land, including providing first-year learning experiences and research opportunities.
"Whatever discipline they are studying, I would expect students to learn how to integrate that discipline with the real thing and not just get it out of a book. They can learn by real-life experience – the engineering department by constructing something, the geography department by identifying rocks, the botany department – it's almost unlimited," Johnson said. The primary goal would be "understanding the relationship all these things have to one another."
Bob's granddaughter Kristi said the Preserve lands were instrumental in teaching her how to love the outdoors, and she is thankful that SSU students can have their own outdoor experiences.
"I'm just so happy that this dream of (my grandparents and great-grandparents) is coming to fruition," she said.
---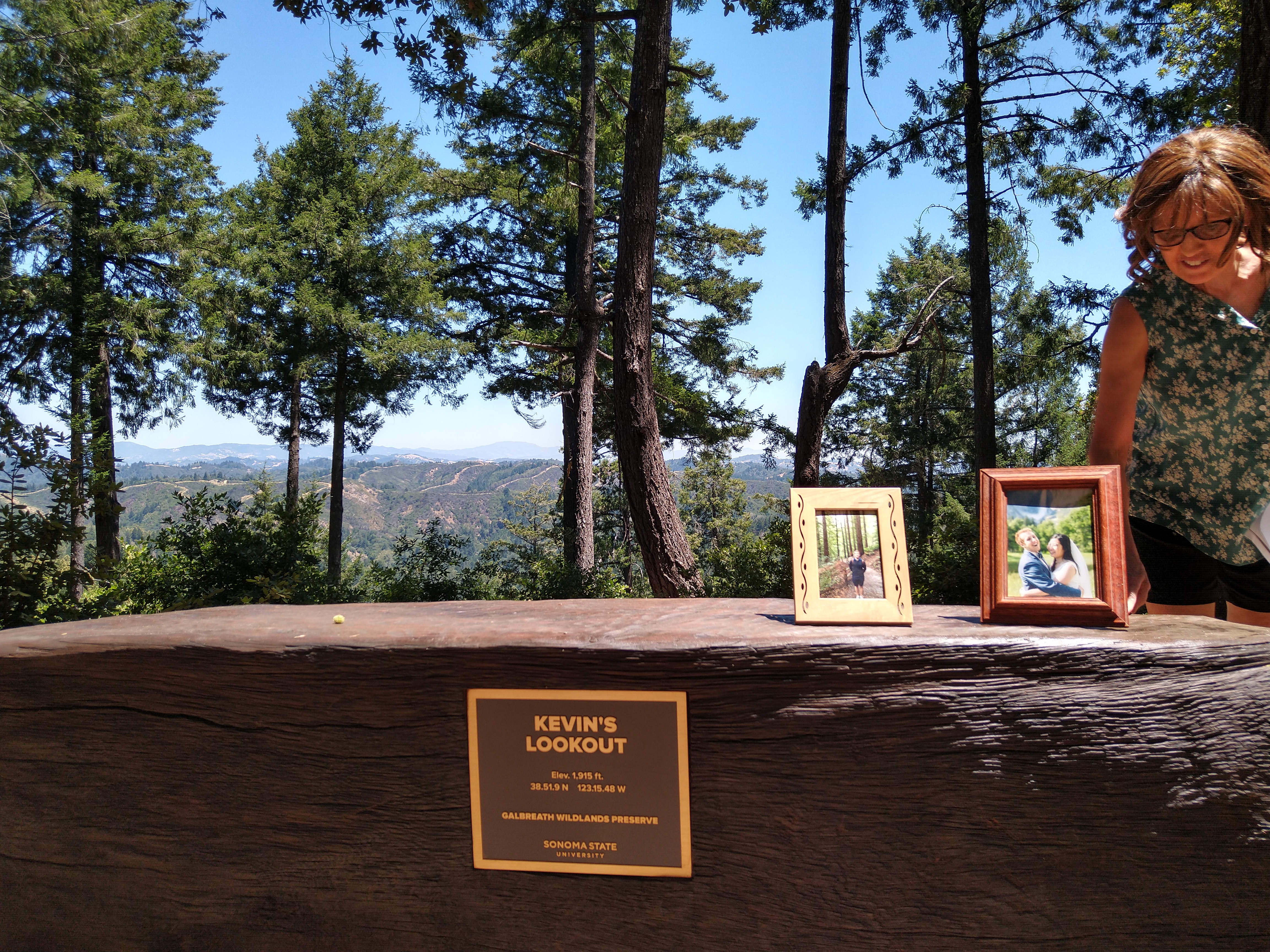 At a separate ceremony, the family invited staff and volunteers to join them in a memorial and celebration of the life of Kristi's twin brother, Kevin, who was killed in a distracted driving accident just two months after his wedding in (YEAR).
In a moving ceremony at an overlook on the preserve, CEI unveiled a bench adorned with a plaque, reading "Kevin's Lookout." Galbreath Logistics Manager Andy Balestracci crafted the bench from old growth redwood on the preserve.
Said Luke, "We have the opportunity at this preserve to preserve Kevin's love of the outdoors. I think the most important thing we can do is bring people here and celebrate their connection to the earth."
Kevin's mom, Terry, said the family feels the bench represents Kevin by expressing his love of the outdoors. "This bench is fabulous. I'm speechless," Terry said. "I'm honored to have everybody here with our family."
Kevin's father, David, agreed, saying, "it's so perfect."
Terry and David have been working hard to support a bill moving through the California legislature to establish a grant for distracted driving awareness. "We are trying to make more communities throughout California more aware and teaching us to have safe driving practices," Terry said.